Special offer! Book direct with us and get a welcome gift!
For all reservations made directly with us , you will receive a welcome drink.
For al reservations for more than 6 days , we will invite you for a dinner for 2 in our restaurant.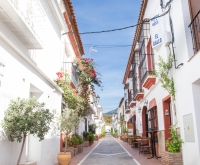 About us.

In 1985, "El Gallo" was founded, which at that time was a small neighborhood bar where you could have a "Montilla" (tipical wine of south of Spain) and a good stew. Little by little, along with the neighbors, foreigners joined with curiosity and the desire to taste the typical Andalusian cuisine and its atmosphere.
Even today we can enjoy the visits of those turist and neighbors who inaugurated the first decade of the bar, old acquaintances who have accompanied us on this journey.
The best economical and comfortable choice in the Old Town !
The entire staff will ensure that you enjoy a unique and cozy stay in the historic center of our city.

We are located in the Old Town, behind the Santo Cristo chapel and parallel to one of the fashionable streets; Calle Ancha, close to the main attractions of the city: such as the Plaza de la Iglesia de la Encarnación, the Arab walls of the castle and the Plaza de los Naranjos.
A 10 minute walk from the promenade and its beaches and just a 15-minute drive from the famous marina of Puerto Banús.


The Hosta Restaurante el Gallo offers the best quality / price ratio..